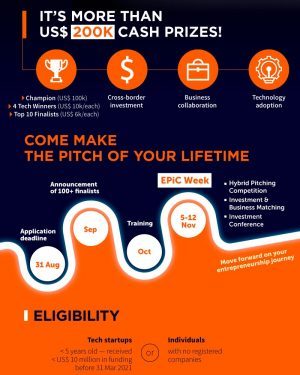 If you are green tech startups or individuals with business ideas, based on smart technologies for a sustainable economy you may be interested in applying to partcipate in the annual flagship event – Elevator Pitch Competition (EPiC) 2021.
The Hong Kong Science and Technology Parks Corporation (HKSTP) is staging EPiC for the 6th consecutive year, fueling the collective force of global tech innovators, investors, and industry leaders to foster impactful partnerships and collaborative innovation in Hong Kong, GBA, and beyond. This will be a week-long hybrid series set to reach 500+ I&T talents from 40+ economies, and 200,000+ attendees from all corners of the globe comprising of government, industry, academic, and research professionals, investors, and tech enterprises.
By helping tech talents find their voice and get their disruptive ideas off the ground, adopting innovative business models, and extending cross-border investment opportunities, we contribute to forming part of the catalytic global I&T chain that pulls entrepreneurship and the world forward.
If you are a tech startup already established or individuals with business ideas and have any questions, please visit the website of the event or apply directly at https://epic.hkstp.org/. Deadline for applications 10th September 2021.

Hybrid Pitching Competition: 5th November 2021
Investment & Business Matching 8-11 November 2021
Investment Conference12 November 2021 (Fri)