Meet our team
The project consortium consists of 7 European organisations with expertise in the areas of education, training, networking and climate change mitigation. We're from the United Kingdom, Belgium, Bulgaria, Greece and Spain. We're constantly active in climate change initiatives, which you can see here.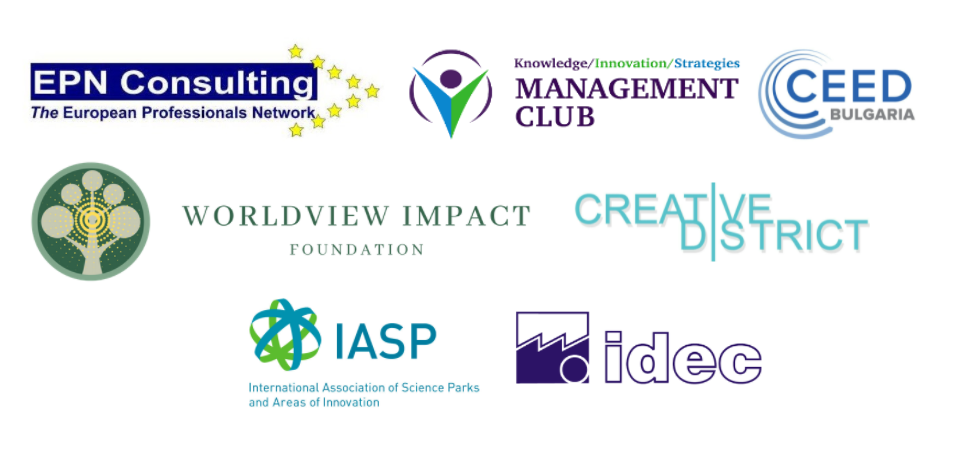 Center for Entrepreneurship and Executive Development – CEED Bulgaria was founded in 2006 in Bulgaria, with the mission to promote entrepreneurship by providing the knowledge, know-how and contacts to help entrepreneurs grow their businesses to the next level. CEED organizes and facilitates business discussions, specialized seminars, conferences and more. The center has a network of more than 60 experts from various business fields.
Creative District (CreaD) is a non-profit organisation supporting entrepreneurship in the creative and cultural industries. The organisation's purpose is to boost the creation of jobs in this sector by revitalizing vacant spaces and implementing projects with societal values and local anchorage, to revive this industry and (re) create an economic activity. It manages co-working spaces, organizes events, trainings, and connects entrepreneurs.
EPN Consulting is an SME dedicated to Sustainable Transport, Smart Mobility in Smart Cities and European Projects (from the assistance to clients to direct participation in projects playing several roles according to the specific project's needs). Main areas of expertise include EU projects preparation and management, Consultancy on Intelligent Transport Systems & Sustainable Transport as well as Business Management & Innovation. 
IDEC is a training consulting company located in Piraeus, Greece. Its activities consist of training, management consulting, quality assurance, evaluation and development of ICT solutions for both private and public sector. It has been accredited as a lifelong learning centre and organises in-service training courses for teachers and trainers, study visits and informal learning activities for students in initial education and training.
International Association of Science Parks and Areas of Innovation, (IASP) is a knowledge-based network which brings together existing and developing science and technology parks, areas of innovation and innovation-based business incubators. Besides assisting its members in their networking operations, IASP organizes workshops and training seminars, provides documentation and organizes several international conferences annually.
The Knowledge, Innovation and Strategies Management Club (KISMC) is a Bulgarian NGO established in 2012 by experienced consultants and adult trainers united by the primary purpose to stimulate the transfer and use of contemporary methodologies and tools in enterprises for better management efficiency and labour force skills. The main training activities KISMC provides under the brand of the main initiative Innovation Management Academy (IMA).
Worldview Impact Foundation (WIF) is a non-profit international organisation with a mission to making an impact at the grassroots to create positive changes. It is working on mitigating climate change by creating sustainable livelihoods for the poor while reducing poverty to improve living conditions in the developing world. It provides capacity building and training courses for young people in developing countries to support employment generation.