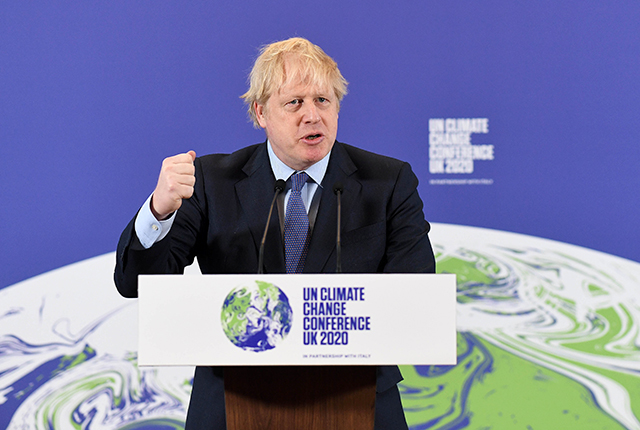 Activists make a final push for climate justice 
Throughout COP26, indigenous groups and youth activists have stated that they have had trouble making their voices heard at the main events. Barriers have included high accommodation and transport costs, confusion over Covid-19 testing and a business-as-usual approach from many nations and non-state actors present. Nonetheless, there has been a packed Green Zone agenda, protests that have gathered more than 100,000 people and, on Friday, in a first for the COP process, a People's Decision for Climate Justice was submitted in the Blue Zone, as part of work spearheaded by the COP26 Coalition. This makes ten asks of wealthy and high-emitting nations on behalf of the world's most affected and vulnerable communities, covering adaptation; finance and debt; skills; human rights; improving the inclusivity of COP processes and preventing green washing.
Beyond Oil and Gas Alliance launches
Thursday (11 November) saw Denmark and Costa Rica launching their highly anticipated alliance requiring nations to set an end date for new oil and gas licensing and plans to phase out existing capacity. The Alliance includes Wales, France, Ireland, New Zealand, Sweden, Greenland, California and Quebec. Many in the room had questions on why many governments which are not oil and gas producers had joined and why the world's largest producers, such as the US, Russia, Canada, Saudi Arabia, Norway and the UK, were not present.
Global declaration on zero-emission vehicles fails to get support from US, China, Germany
Transport was the official theme for Thursday, and, building on its own commitments to end new petrol and diesel car sales by 2030 and new petrol and diesel heavy goods vehicle (HGV) sales by 2040, the UK spearheaded a new global declaration on ending ICE vehicle sales. The declaration has been signed by more than 30 countries and dozens of businesses – both those that manufacture vehicles and those that operate fleets. The declaration states that, in keeping with a net-zero world by 2050, all new vehicle sales should be zero-emission by 2035 in leading markets. There is a 2040 deadline for all other markets. The world's three largest car markets, the US, Germany and China, have not signed the declaration at this stage, but businesses, cities and regions in these geographies have.
Sector-specific emissions targets on the way for aviation
Aviation is responsible for around 3% of global annual emissions and is hard-to-abate. Pandemic aside, it has been growing rapidly in terms of passengers and emissions, so there were hopes for a new agreement on low-carbon aviation ahead of transport day. The day saw 18 nations signing a new declaration in support of the development on emissions targets for aviation that are aligned with the Paris Agreement's 1.5C temperature pathway. The targets will be pre-2050 and developed in line with global net-zero by 2050. Canada, France, Ireland, Japan, Spain, Turkey, the US, the UK, Korea, Norway, the Netherlands, Morocco, the Maldives, Kenya, Finland, Costa Rica and Burkina Faso are the first signatories to the declaration. These nations are collectively responsible for more than 40% of global annual emissions from aviation.
23 nations join cleantech 'missions'
China, India, the UK, US and EU are among a cohort of 23 governments that announced new plans to catalyse cleantech investment this week, under the 'Mission Innovation' platform first convened at COP21 in Paris. Participating nations collectively accounted for 90% of global public investment in low-carbon energy innovations made last year. Adding to existing plans for decarbonising power systems and shipping, the platform announced new workstreams on low-carbon cities, decarbonising heavy industrial sectors, scaling up renewable fuels, decarbonising the chemicals sector and producing renewable materials, and scaling up man-made carbon capture technologies.