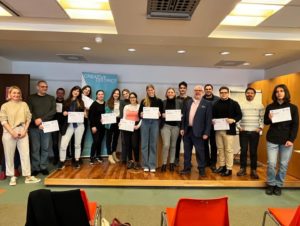 From the 14-18 March, 23 individuals with a keen interest in environmental and adult education met in Brussels for a training course that aimed to equip them with the skills they need to teach about climate change and sustainability. These participants came from the FCC partners' countries – Belgium, Bulgaria, Greece, Spain and the UK – and all had different backgrounds and experiences, making the week ideal for sharing knowledge and stories.
The course held at Creative District was "a perfect mix between formal and informal" according to one participant, and comprised presentations by experts, group work activities, interactive games and networking opportunities. Experts such as Bremley Lyngdoh shared their vast knowledge on topics spanning from the UN Sustainable Development Goals to climate finance to COP26, allowing all involved to expand their knowledge and be able to share it with organisations they collaborate with.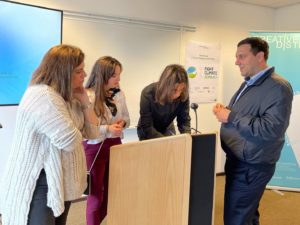 Throughout the week, all the participants got stuck in by sharing their fascinating experiences and inspiring ideas. Keshava Krishna-Das spoke on the impact of Covid-19 on climate change, Joana Avi-Lorie on climate anxiety and Yodaly Sierra-Rubio on climate entrepreneurship, whilst all participants were given the opportunity to present their own climate case studies. This pushed many out of their comfort zones, but was an invaluable experience for all involved.
The Wednesday afternoon also saw an inspiring trip to Circularium, a former industrial space measuring over 20,000m2 that has been transformed into an area for local and sustainable innovation. It focuses on four main pillars – production, circularity, flexibility and district – which allow projects to blossom in a sustainable and environmentally friendly way. It currently hosts an eclectic mix of long term, start-up, pop-up and event projects. The visit was enjoyed by all and provided inspiration of what sustainable entrepreneurship that benefits communities can look like.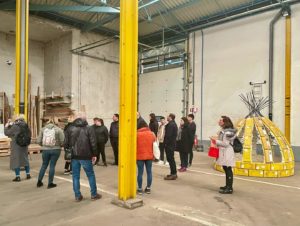 The penultimate evening of the course saw a dinner enjoyed by all project partners and participants at a sustainable restaurant serving locally sourced food, where new opportunities for collaboration were discussed as were the lessons learnt over the week. Despite having spent just a week together, it was apparent that new friendships had been formed and that the lasting impact of the course would be significant. With participants from five countries and ages ranging from 18-60, it was certainly a unique opportunity to meet like-minded people though with a wealth of different experiences.
The week culminated in a closing ceremony in which participants received certificates in recognition of both the skills and knowledge they had gained over the course of the week, as well as their contribution to each session. They will now return to their countries to pass on the wealth of experience and understanding they acquired, and potentially collaborate on sustainable projects with each other in the future. All in all it was a fantastic week, thoroughly enjoyed by participants, partners and presenters alike.
To see more photos from the training course click here.