This article was contributed by Bremley Lyngdoh of FCC partner WIF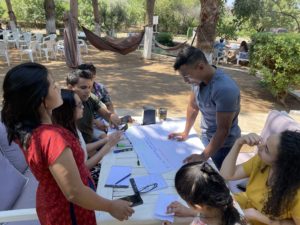 FCC project partner Worldview Impact Foundation (WIF) designed the Creating Impact through Social Entrepreneurship (CISE) project, an initiative approved in 2019 that aims to address challenges faced across India.
In Meghalaya, for example, about 80% of its total population depends entirely on agricultural business for their livelihood. With many villages located in critically degraded landscapes, this Erasmus+ project aims to support ground operations to implement sustainable development projects, and help its population thrive in the face of climate change.
The climate challenges restricting development in Meghalaya are compounded by 16% of its population living below the poverty line, with this worsening as the cost of living increases rapidly. Furthermore, infrastructural constraints have prevented the creation of high wage jobs, which has been a source of development in the rest of India.
This is not just restricted to this Indian state, however, with WIF's country partners also facing similar problems. According to Eurostat, 41.6% of Turkish citizens are at risk of poverty and social inclusion, along with another 30% in Italy. This figure is 22.2% in the UK.
Without the relevant skills, training and support to rise above the poverty line, the investment by government may fail its people, if not supplemented with sufficient training and standards. As a result, the CISE project will provide the innovative, structured, and potentially profitable training infrastructure in place to help local projects/ businesses develop in the future.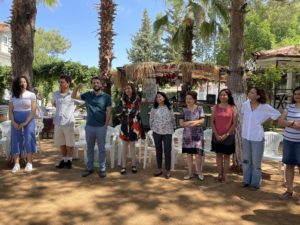 One way of doing so has been through a special Training of Trainers (ToT) for 33 social entrepreneurs from the four partner countries in Fethiye, Turkey. The participants were randomly split up into 5 teams and then had to work together in designing and pitching five social impact projects while demonstrating collaboration between different partner countries.
The five social impact projects were then scored by judges with the top three projects being awarded $20,000 each by a startup fund managed by Impulse NGO Network in Shillong, India. All participants are now engaged in their local actions at the community level, training and sharing the knowledge they got from the ToT in Turkey with at least ten more young people interested in social entrepreneurship in the 4 partner countries with a goal to train at least 300 in total.
Once the local actions are completed WIF will host a study tour for the teams in London, UK from 10 to 17 September 2022 where they will meet face to face with social entrepreneurs and the three winning teams will get the chance to pitch their projects to impact investors based in London.
This innovative project is helping to build a 'social-economy' roadmap with specific goals, targets, actions and mechanisms, based on the three sustainability pillars: social, economic and environmental. With knowledge being multiplied in area that wouldn't otherwise have the opportunity for such development with EU standards, the CISE project is ensuring a huge impact on a local, regional and local level.
The environment is key in the project's approaches, with Impact Explorers given the change to directly contribute to restoring damaged ecosystems and offsetting their travel emissions by taking part in field based learning on how to plant native food crops and tree species in the mountain ecosystems of the Himalayan foothills.
Furthermore, the project combines ecological land use for food production with sustainable tourism, green architecture, renewable energy production, zero waste management schemes, greenhouse gas negativity, regenerative water management and organic food production. With mentorship and knowledge transfer key to CISE, huge opportunities are created for the future environmentally, economically and socially.
For more information about WIF's activites, click here.