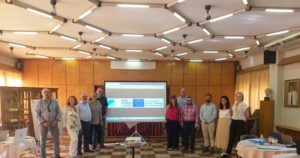 The fourth meeting of the EU Erasmus+ project Collective Innovation to Fight Climate Change was held on September 16th at IDEC's headquarters in Piraeus. The meeting was attended by representatives from all organisations participating in the project: EPN Consulting Limited (UK), KISMC (Bulgaria), CEED Bulgaria, IDEC (Greece), CreaD (Belgium), WIF (UK) and IASP (Spain).
Partners discussion was centred on the analysis of participants satisfaction to the first project training course, held in Brussels, as well as in the development progress of the project main outputs: Climate Change and Sustainable You Handbook; Innovating for Climate Change & Sustainability Toolkit; Climate Change Manual; and Fight Climate Change Platform.
The consortium is currently working on the preparative for the second project training course that will take place in Sofia in Spring 2023, and that is addressed to entrepreneurs, SMEs and startups.
If you are interested in the training material delivered by the project and/or would like to be part of the initiative attending the training course in Sofia, please register to our Newsletter to receive updated information.